Congratulations very warmly….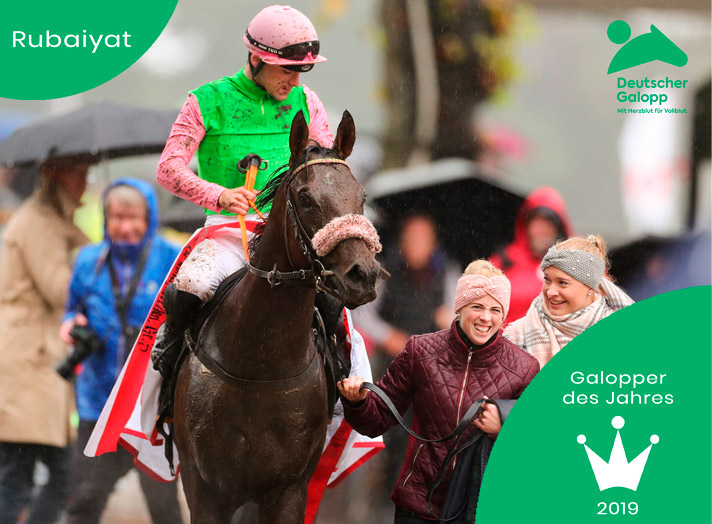 RUBAIYAT IS GALOPPER OF THE YEAR 2019
The 3-year-old stallion crowns his successful season with a coveted audience award
Cologne, 27.03.2020: Success on the whole – 3-year-old Rubaiyat impresses at the start of his racing career with a winning streak and at the same time becomes the darling of the audience. This is now proven by the result of the election for galloper of the year, Germany's oldest public vote.
For a month Deutscher Galopp e.V. together with the sport world and betting star was looking for this year's winner – so long all gallop sports and horse lovers could vote for their favorite. In the end, Rubaiyat galloped away from his strong competition in the fight for the title of "Galopper of the Year 2019". The youngster, prepared by coaching champion Henk Grewe, secured 42 percent of all votes cast. This puts the newest title holder in the succession of real galloper cracks, such as the super stallions Iquitos (2018/2016), Sea The Moon (2014), Novellist (2013) and the top mare Nightflower (2015).
In his impressive march with four victories in four starts of the year, Rubaiyat left behind his opponents, the one-year-old Derby winner Laccario (38 percent) from the training of Andreas Wöhler and the Alson (20 percent), who had already started several times in France. A success that trainer Henk Grewe is very happy about: "Of course, this is something very special for the stable, we are all very happy. All the more so since these are Rubaiyat, who proved to be a great fighter last season and is the only one of the candidates to be unbeaten so far." Since the founding of the Grewe racing stable in 2014, Rubaiyat is the first winner of the 63-year-old election.
The planned award ceremony will be given to Rubaiyat, named after a Persian form of poetry have to renounce it. The planned award ceremony on Easter Monday in Cologne had to be cancelled due to the coronavirus. The training for the stallion, who is traded as an interesting Derby candidate, will of course continue. As soon as the restrictions allow for the Corona crisis, nothing stands in the way of a successful reunion at the racecourse. "Rubaiyat is a very uncomplicated horse. In his daily training, he shows only the essentials – but develops a huge ambition in the race even then!" says Grewe.
Congratulations to Rubaiyat and the entire team also to Jan Pommer, Managing Director of the umbrella association Deutscher Galopp e.V.: "We are happy for the whole team around Rubaiyat, in these difficult times the "Galopper of the Year" is a welcome, beautiful news. With Rubaiyat we have a worthy winner. Congratulations to all those involved." Pommer adds: "The high turnout – this year we were able to count as many votes with a five-figure sum as we have not been in eight years – makes us all the more positive. The winner of the main prize, a cruise provided by the travel agency Onboard Radio, will be unattended under supervision, informed directly and will vote on everything else."
Rubaiyat at a glance: Stallion, b. 2017, Winning Streak 2019: Race for the Day of the Open Monument on September 8, Grand Prize of Engel & Völkers Düsseldorf – Junior Prize (L), Prize of the Winter Favorite (Gr.III), Gran Criterium (Gr.II) in Milan, Trainer: Henk Grewe, Winning 2019: 245,000 Euro, Breeder: Stud Karlshof, Owner: Darius Racing